Interblock Diamond Dual Roulette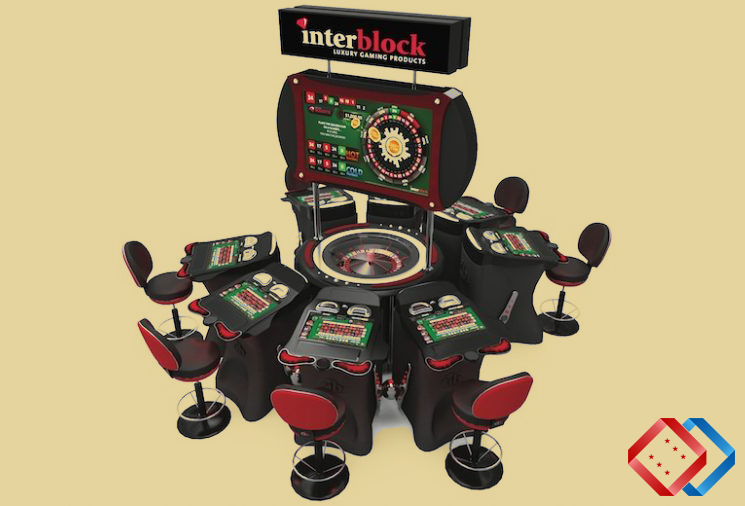 Interblock will be promoting its comprehensive collection of gaming solutions at ICE Totally Gaming on booth #S4-210. Their products are designed to bring new carded players to the casino floor and increase the hold and handle the industry has historically seen from ETGs.
---
Interblocks innovative Diamond Dual Roulette
Interblocks innovative Diamond Dual Roulette is one of many new products that will be on display at ICE Totally Gaming 2018. The product is composed of two different coloured wheel generators that deliver results for twro separate Roulette games. The wheel generators can be configured for single-zero or doublezero Roulette gameplay. With its multi-game functionality and 27-inch screens» players can easily wager on one or both Roulette games from their seat simultaneously. The red and blue automated wrheel generators work in concert, giving players the opportunity to play more spins without having to wait for the betting clock - ultimately driving more revenue to the casino.
The game also offers a Golden Chip Mystery Progressive. When set criteria within the RNG is met, players can be awarded a Golden Chip. The player then has the ability to place this Golden Chip on any straight up number. If the player fails to place the Golden Chip the chip will randomly be placed for them. If the result on the next spin is the same as the Golden Chip bet position the player will win the Progressive Jackpot. If the Jackpot fails to be won it will continue to rise.
The Diamond Dual Roulette ETG game is a groat way for beginner players to learn how to play roulette without the intimidation and stress of playing at a live table, as well as for advanced players who want faster game play than current Roulette offerings.