Description and plot of the Blackjack 21+3 game
Blackjack 21+3 is an exciting casino game that has been gaining popularity since it was first introduced in Las Vegas in 2001. For the past two decades, it has grown to become a beloved side bet at casinos around the world. If you've been curious about how to play this game or what to look for in a quality 21+3 experience, we've got you covered. Learn all about the rules and strategies that can help you make the most of your 21+3 game.
What Is 21+3 Blackjack Side Bet?
Flush - three cards of the same suit, (for example Q♥ 8♥ 3♥),
Straight - three cards of consecutive values, (for example 6♥ 7♣ 8♠),
Three of a Kind - three cards of the same denomination, (for example 8♥ 8♣ 8♠),
Straight Flush - three consecutive cards of the same suit, (for example 4♠ 7♠ K♠),
Suited Three of a Kind - three cards from the same suit with the same denomination, (for example 8♥8♥8♥).
Playing Three Card Poker is a breeze. The dealer will start by dealing you two cards and then turning over their upcard.
If your first two cards and the dealer's upcard make a straight, a flush, or a three of a kind, you win! It's as easy as that. Side bets are also available in Three Card Poker, which can be placed in a small circle off to the side of the main wager.
Whether you're playing online or in a land-based casino, you should be able to find the side bet for as little as $1. In some places, such as Las Vegas, the minimum side bet may be higher at $5 or more.
21+3 side bet hands: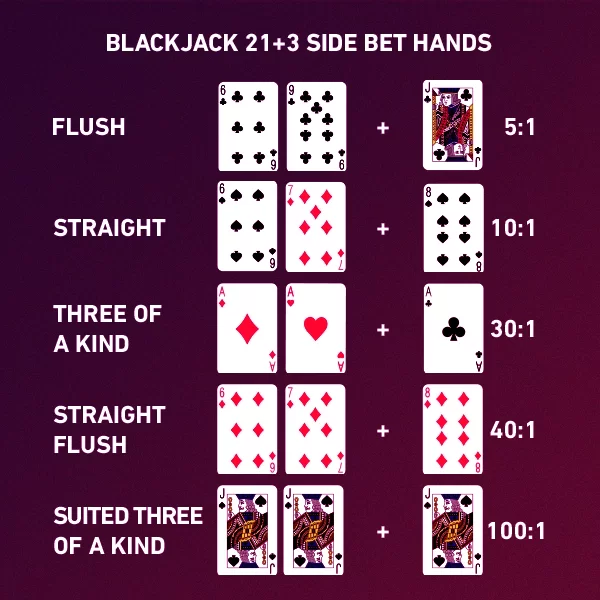 21+3 Blackjack Rules
21+3 blackjack follows the same basic rules as standard blackjack. It is typically played with 6 decks of cards and the dealer stands on all 17s. Players have the option to double down on 9, 10, and 11 values, receiving one extra card. Players are able to split up to 2 hands, including Aces, and may double down after a split. The game pays out 3:2 when the player achieves a blackjack.
Players have various opportunities to win with the 21+3 side bet in blackjack. The winnings they receive are based on the combination of their two cards and the dealer's up card. A Flush will pay out 5/1, a Straight 10/1, Three of a Kind 25/1, Straight Flush 40/1, and a Suited Three of a Kind offers a payout of 100/1. This side bet is similar to poker hands in terms of card combinations, providing players with a different way to win.
21+3 Blackjack Side Bet Odds, Payouts and Combinations:
The 21+3 side bet can bring a payout of 9:1 for a winning hand, but the house edge for this bet can differ significantly depending on the blackjack table and casino. The house edge can range from 2.78% to 13.39%, depending on the variation of the 21+3 side bet.
The 21+3 side bet in a standard blackjack game with 6 decks has a theoretical RTP of 95.38%, which means the house edge is 4.62%. This relatively low house edge makes the side bet attractive to players, as there are multiple ways in which they can win.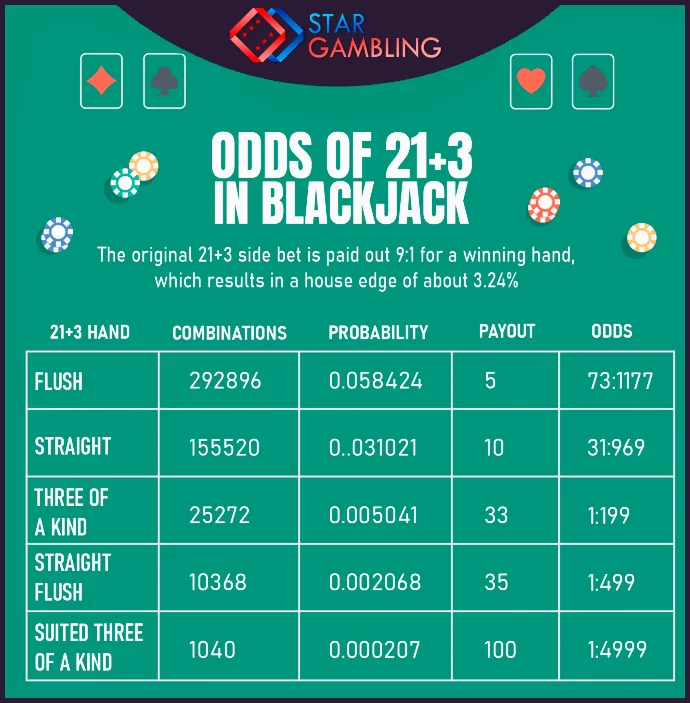 Can a game with a lower house edge be beaten?
Eliot Jacobson, a renowned expert in beating table games, demonstrated that a rudimentary suit count was capable of overcoming the game's house advantage, though with a low expected return and a high level of complexity.
As progressive pay tables became more common, featuring games such as three of a kind with Aces of Spades, many individuals and teams identified opportunities to seek out and take advantage of progressive payouts that were large enough to give the player an edge.
Under certain circumstances, the mathematical pendulum shifted in the player's favor as the jackpot size increased, compensating for the small house advantage.
It is beneficial to be aware of large progressive meters when looking for a 21+3 table, as it may be advantageous.
Alternatively, be aware that playing progressive games with small jackpots could mean you are playing with a higher house advantage than on a standard game.