Gila River Hotels & Casinos Review and Rating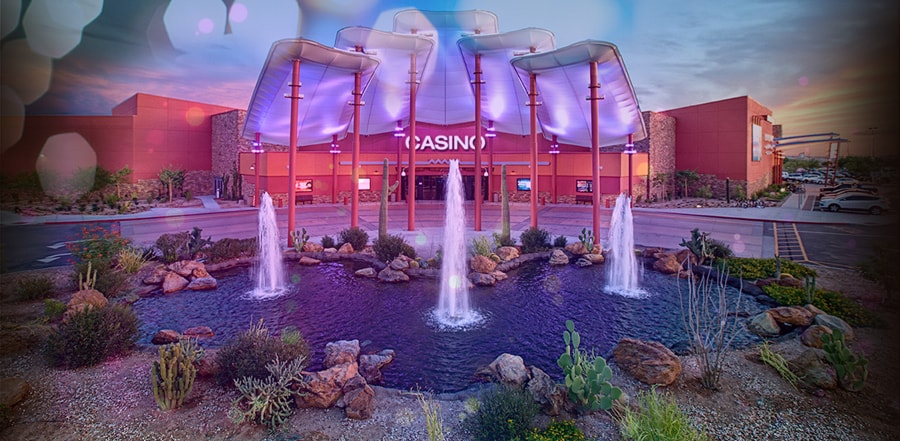 When Gila River Hotels & Casinos were looking for a solution to replace their center bar at Wild Horse Pass and continue to be Arizona's most innovative casino, it found Interblock's electronic table gaming (ETG) Stadium. The tribal operators were the first in Arizona to feature Interblock's enhanced ETG Stadium with high definition player information displays offering players four different game options.
---
Ismael Barrera, Director of slots at Gila River Gaming Enterprises (GRGE) said:
We wanted to bring something unique and exciting to our players at Wild Horse Pass (WHP). The Interblock Stadium platform offers Roulette, Craps, Multi-hand Blackjack, and Baccarat. The addition of this Interblock Stadium at WHP complements all areas of gaming at WHP, such as High Limit Slots, Non-Smoking, and Poker and Keno areas. The gaming options offered at Gila River Hotels & Casinos make it the casino of choice in Arizona.
Dominic Orozco, VP of Marketing at GRGE said:
We are excited and proud to be the first group in Arizona with these new and cutting edge games. We especially love the stadium seating because it is very communal, which is why we chose to place the game in the middle of our gaming floor. We are extremely happy with the feedback we've received from players so far.
Stadium gaming has been a popular trend in casinos throughout Asia and Europe for decades. As of late, Stadiums are beginning to make their way onto casino floors around the country, and ETG manufacturer Interblock is driving that innovation train.
Gila River & Interblock gaming products
Interblock is a worldwide leading developer and supplier of luxury electronic table gaming products. They manufacture ETGs, in automated, video and dealer assist format, and they make them well. In fact, Interblock is the only ETG provider solely focused on ETGs. From the quality of the hardware to the cutting-edge technology in the software, Interblock machines have a high-end look and feel that set them apart.
Stadiums create a fantastic focal point on any casino floor and provide both a social and private experience for new and experienced players alike. For new players who have never played table games or are intimated to try them, the Stadium has become a great conduit to table games. It provides a low-stress environment to learn or play table games without the intimidation from other more experienced players and provides lower limits to create a less expensive introduction to table games.
The Stadium also allows for a faster speed of play not only because the betting clock is fixed, but also because guests do not need to wait for the dealer to count chips and award winnings.
Blake Katsnelson, Director of Casino Marketing at Gila River Hotels and Casinos said:
ETG Stadium environments are the perfect game to target the Millennial demographic. With this new game, they are able to practice in the Stadium until they learn tlie rules of the game and become comfortable enough to play on one of our live tables.
Gila River play stations
What's more, each individual play station allows guests to manage their bankroll and betting electronically - providing excellent privacy for guests. Play stations also offer a help and rules menu that provides instructions on how to play each table game and side bet as well as pay out information - it is all accessible from any seat within the Stadium!
Within the Vee Quiva and Lone Butte Interblock Stadium, players can enjoy electronic versions of their favorite table games such as Roulette, Multi-hand Blackjack and Craps. Roulette and Craps games are automated, while Multi-hand Blackjack and Baccarat are video versions.
Richard Strafella, Chief Operating Officer at GRGE said:
Arizona hasn't seen anything like this! The Interblock Stadium provides multiple game choices on one monitor. If you're playing Roulette and a player next to you is on a roll at dice, just switch your game and you can be part of the action!
Gila River Slots 24/7
From file comfort of one seat, all games are accessible, 24/7. Each Stadiums 80-inch high-definition LCD displays provide aesthetically pleasing graphics displaying game trends, game history, and live game play from the automated Roulette and Craps games.
Through the play station screen, guests can utilize the bubble navigation on the left hand side of the screen and can seamlessly switch between their favorite games. For the automated Roulette and Craps games, picture-in-picture video feeds are shown directly on the player screen when the ball is shot and the dice shake.
Craps offers a variety of authentic stick calls and the Lucky Shooter side bet! The object of the Lucky Shooter side bet is to establish an initial point, roll five other box numbers in any order during the next five rolls, and then roll the initial point again on the sixth roll. The more box numbers, the more you win!
Interblock's patented Multi-hand blackjack game brings even more excitement to the Stadium. Multi-hand Blackjack offers players the ability to wager on up to three hands against the dealer. For all participating players, six cards are dealt face up as the initial cards of their three hands. The dealer receives two cards, one face up as in traditional Blackjack. These cards, as well as any dealer draw cards, will be common cards in the dealer's hand for all players.
Players can even hit, stand or double down on any hand in any order they prefer. Wins and losses are determined by each player's decision. In addition, a strategy card for Blackjack is available right at the players' fingertips for their convenience.
The Wild Horse Pass Stadium, the latest addition in the wave of Interblock products installed at Gila River Hotels & Casinos, features Roulette, Multihand Blackjack, Craps and exclusively offers Baccarat.
Richard Strafella said:
In the center of all the action at Wild Horse Pass comes a 30- seat Stadium arena that features not just one but four electronic table games from Multi-hand Blackjack to Baccarat and Roulette to Craps. The action is nonstop!
Although Baccarat can seem confusing and intimidating, it is both simple and one of the easiest card games to learn, especially within the Stadium environment. All the player must do is bet on three possible outcomes: a player win, a banker win and a tie. The dealer does the rest of the work in this game. After the wagers are placed, the cards are dealt. Cards two through nine are worth face value. A ten, jack, queen and king cards have a value of zero and an ace is worth one.
Two cards for the player and banker are then dealt face up and whichever hand totals closest to nine wins. If the player bet on the player hand and the hand is closest to nine, winnings are doubled. If the player bet on the banker hand and the banker hand wins, the hand pays 95 percent of the wager.
If the cards dealt are greater than nine the two cards are added, then the first digit is dropped to get the value. For example, if the hand shows an eight and a nine card, the total of both cards is 17. The first digit is dropped for a total value of seven.
If this seems like a lot of math, you are in luck. The player screen does the math and the total value of each hand is visible above the cards allowing the guest to focus on winning.
Gregg Levine, Account Executive at Interblock said:
We can feel the momentum and evolution of gaming in the industry and we are proud to be the leading ETG manufacturer of Stadium gaming technology. We look forward to providing Gila River Hotels & Casinos with even more innovations in the future to bring more excitement and gaming options to its Stadiums.
ETGs such as the Stadium have become the place where all the different segments of gaming come together. For more information on Interblock's Stadium, visit their website at Inter- blockGaming.com. For more information on any of the three Gila River Hotels & Casinos, visit WinGilaRiver.com.